Why the film "But I'm a Cheerleader" condemning conversion therapy remains an unheralded masterpiece
.
This is a fearlessly camp and fearlessly queer movie.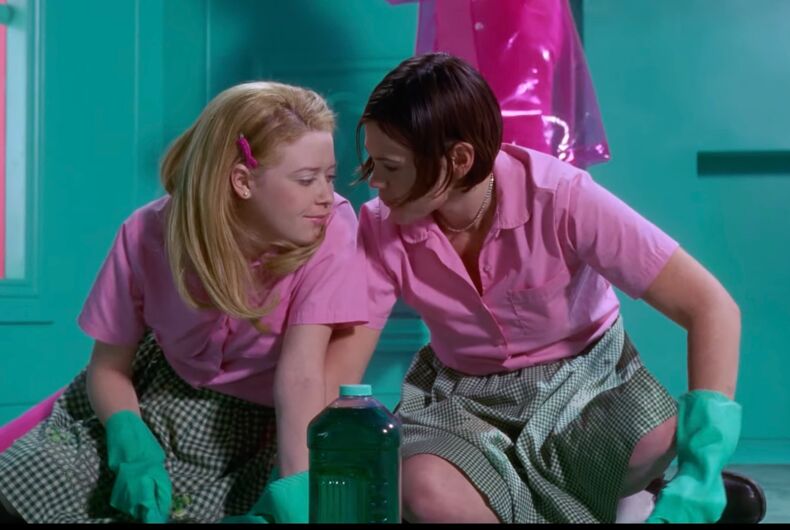 The words "conversion therapy" are often enough to send shivers down queer people's spines. The antiquated pseudoscience involves trying to forcibly change a person's sexual orientation, gender identity or expression into hetero, cis "normality." It's an extremely dangerous and insidious practice that's led to generations of trauma, self-hatred, violence, and suicide. It's also still completely legal in 21 states, and partially legal in others.
A number of recent films have explored conversion therapy, including The Miseducation of Cameron Post, Boy Erased, and the recent horror film They/Them. For the most part, these are serious dramas that hone in on the psychological torture, taking place in cold, clinical settings. For the first major American film to tackle conversion therapy, Jamie Babbit's 1999 film But I'm a Cheerleader takes a very different approach. The film is a satirical comedy, camping and queering up conversion therapy at every turn to create an extremely funny, incisive, and wildly under-appreciated film.
The film follows Megan (Natasha Lyonne), a high-school cheerleader. She's had a boyfriend for years, but when he kisses her, Megan finds herself thinking of the other cheerleaders – shown through wonderfully stylistic cross-cutting. One day, she arrives home to her parents and friends waiting for her, alongside Mike (RuPaul Charles), who works for True Directions.
You see, everyone is deeply concerned that Megan is developing lesbian tendencies, and True Directions, a conversion therapy camp, can fix her. She's adamant it's all nonsense: "There is no way I'm going," she says, but a rapid cut to her sitting in the car being driven to the camp makes it clear she has no choice.
Lyonne is wonderful as Megan, channelling a wonderful childlike innocence fitting of a virginal suburban christian cheerleader. There's a genuine sweetness to Megan that makes her likable even when she's abrasive, but what really elevates her character is how she develops throughout But I'm a Cheerleader. Consider the absolute terror in her eyes when she reaches the revelation that she is actually a homosexual, tears streaming, lips quivering as she realizes her family's worst fear is a reality. Everyone else around her smiles and embraces her, but this is very much a worst case scenario for Megan.
One of the reasons that But I'm a Cheerleader is such an important piece of queer film history is that it lambasts conversion therapy at every turn. This allows Megan to slowly but surely come to terms with who she is, owning her identity as a lesbian – the precise opposite resolution that conversion therapy aims for, rendering it's practice null and void. Vitally, while Megan opens her eyes and figures out her sexual identity, her personality remains the same. Her big, climactic moment at the end of the film stays close to who she is. She doesn't have to give up the things she loves as a lesbian.
It seems fairly obvious, but a film aimed at teenagers telling them they absolutely do not need to compromise who they are to be queer was monumental – there simply wasn't anything else aimed at the age group with the same message.
The other reason But I'm a Cheerleader is an unheralded masterpiece is the way it gleefully skewers conversion therapy at every opportunity, showcasing how patently absurd it all is, and inviting you to laugh not with it, but at it. Everything about True Directions is nonsensical. Instead of the cold, clinical white walls you'd expect, every room is full of vibrant pinks and blues (because gender roles!) from floor to ceiling. The same can be said of the boys and girls outfits. The leader of True Directions, Mary (Cathy Moriarty) can't even get her own son to "straighten up," as he's regularly seen prancing around the grounds. In one hilarious moment, Mary shouts at him to stop sipping and drink like a man (whatever that means). Heck, one of the employees is played by RuPaul, world famous drag queen, butching it up in a delightful performance.
The music is in on the joke too, favoring instruments like xylophones to create an almost circus-like atmosphere. Because the most conversion therapy can aspire to is performative theatrics.
At the camp, Megan meets Graham (Clea DuVall), who has fully embraced her existence as a proud lesbian, though she pretends to be willing and interested in change to appease the people at True Directions. The two initially butt heads – Megan wants nothing to do with homosexuality – but through her relationship and ultimately budding romance with Graham, she discovers not only herself, but that there's nothing abnormal about being a lesbian.
When one of the girls at True Directions realizes that she's actually heterosexual, it should be a moment of victory for the conversion camp, but it's laughed off as nonsensical: "Take a look at yourself," Mike tells her. They don't believe her because she has masculine features, and therefore couldn't possibly be hetero. It's one of the film's most scathing and effective critiques – conversion therapy isn't really about "fixing" or "helping" people. Rather, it's about forcing people into pre-defined societal roles. As the camp tries harder to force these kids to live inauthentic, miserable lives to prop up a heteronormative society, it only makes them want to jump each others bones more. It's funny, it's twisted, and it's totally unforgettable.
I guess it's no surprise that a film so unapologetically queer was initially slapped with an absurd NC-17 rating, which would effectively destroy the chances of the film being seen by teenagers, the target audience. The problem, apparently, was the reference to a woman performing oral sex on another woman, even though the film contains references to men doing the same thing, which remain in the movie. In an interview with Variety, Babbit revealed that she had to change a sex scene (which wasn't remotely explicit) because the rating board rep said, "I'm sure there's terrible things happening in the darkness." The message was clear: women loving women shouldn't be seen by anyone underage.
Babbit made changes, and the film was given an R rating, still making it more or less impossible for the young queer teenagers that needed this film to actually see it when it came out in 1999.
Critics hated it too. They were quick to point out that the film is disingenuous in its portrayal of conversion therapy, which apparently must always be presented in the most serious of contexts. What the criticism at the time didn't understand, is that distinct queer sensibility that But I'm a Cheerleader possesses. The film is very clearly and mercilessly poking fun at something as serious as conversion therapy because that's how we, as queer people, have learned to cope with tragedy. To say it doesn't tackle the dark side of the situation is patently absurd — just because it has vibrant color, does not mean the film doesn't expose the bitter ironies at the core of conversion therapy and the trauma it inflicts on people. This is a fearlessly camp and fearlessly queer movie.
Thanks to the MPAA effectively censoring the film from its intended audience and a slew of scathing reviews (from heterosexual critics, mind you) But I'm a Cheerleader never took off in the way that it should have. Over the years, its gained status as a cult favorite, and queer critics have been particularly kind to the film, recognizing it as far ahead of its time. With its cast including legends like Lyonne, Duvall, Melanie Lynskey and freaking RuPaul, it's my hope that this groundbreaking exploration of conversion therapy will earn its place as a bonafide classic.