TX Supreme Court rules governor can't order parents of trans kids be investigated for child abuseTX Supreme Court rules governor can't order parents of trans kids be investigated for child abuse
.
Gov. Greg Abbott wanted trans kids taken away from their supportive parents, but the court said he doesn't have to power to do that.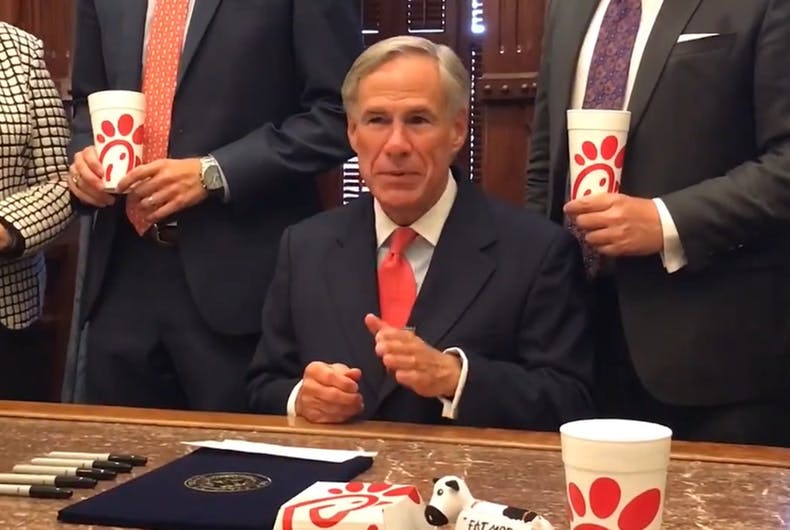 LGBTQ advocates are celebrating as the Texas Supreme Court ruled that Gov. Greg Abbott (R) and Attorney General Ken Paxton (R) do not have the authority to force the Texas Department of Family and Protective Services (DFPS) to investigate the supportive parents of transgender children.
"Today's decision is a win for our clients and the rule of law," the ACLU, ACLU of Texas, and Lambda Legal said in a joint statement. "The Texas Supreme Court made clear that the attorney general and governor do not have the authority to order DFPS to take any action against families that support their children by providing them with the highest standards of medical care."
Related: Beto O'Rourke cooked burgers for a family with a trans kid on Mother's Day
This past February, Paxton issued a non-binding opinion that parents who allow their trans kids access to gender-affirming care are violating the children's constitutional rights. Abbott cited that opinion when he ordered DFPS to investigate the parents of transgender kids for child abuse if they let their kids have access to puberty blockers or hormones.
Puberty blockers are medications that delay the onset of puberty. Going through the wrong kind of puberty can increase a transgender person's dysphoria and permanently change their bodies in ways that can't be later undone. Puberty blockers have been shown to greatly reduce lifetime suicide risk for transgender people who want them.
Several DFPS employees quit over the order and some state attorneys refused to enforce it, since providing necessary medical care to children is the opposite of child abuse.
A family sued the state and won a temporary injunction in early March, blocking the order from going into effect. The state appealed and now the Texas Supreme Court lifted the statewide injunction, saying that DFPS is only blocked from investigating the one family that sued. At the same time, the court reaffirmed that Abbott didn't have the authority to issue the order to DFPS in the first place.
The ruling leaves DFPS where it was before Abbott issued his order – the department can investigate families that it believes need to be investigated, but it does not have to investigate the supportive parents of transgender minors – except regarding the family that sued, which it cannot investigate.
Grid News legal affairs editor Chris Geidner said that the opinion is effectively telling DFPS not to investigate other families just because they're allowing their kids access to gender-affirming care because those families could just ask for similar injunctions.
The LGBTQ organizations also noted in their joint statement that the part of Abbott's order that required mandatory reporters – like teachers and pediatricians – to report the parents of transgender children for child abuse can't take effect.
"Though the court limited its order to" the plaintiffs, the statement said, "it reaffirmed that Texas law has not changed and no mandatory reporter or DFPS employee is required to take any action based on the governor's directive and attorney general opinion. By upholding the injunction, the court left in place the lower court's decision that investigations based solely on the provision of medically necessary health care cause irreparable harm. It would be unconscionable for DFPS to continue these lawless investigations while this lawsuit continues, and we will not stop fighting the protect the safety and lives of transgender youth here in Texas."