TikTok suspends LGBTQ org for writing the word "Gay" in the comments
.
Is TikTok applying Florida's Don't Say Gay law to its comments section?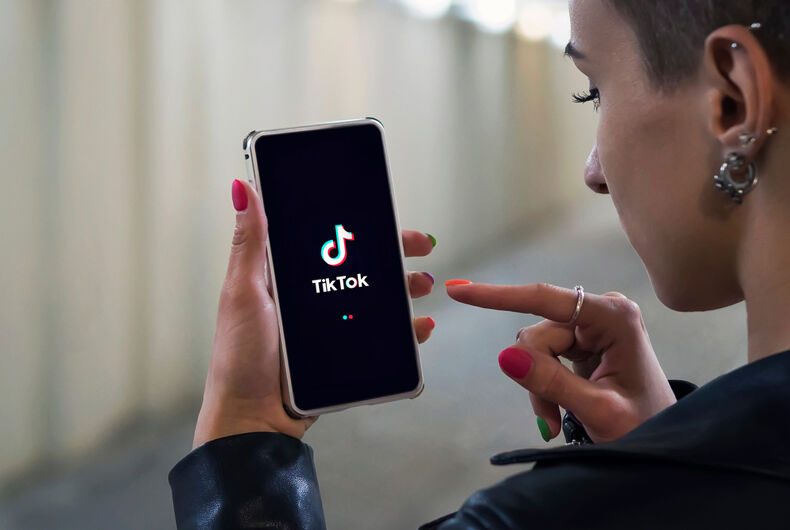 The Human Rights Campaign (HRC) went head-to-head with TikTok this week after the social media platform suspended the civil rights organization's account for using the word "gay" in a comment.
HRC responded with a video tweet, stating, "TikTok are you serious? You are literally banning us from doing life-saving work for LGBTQ+ folks. Why was this a violation in the first place?"
Related: HRC rejects $5M Disney donation until company does something to stop Florida's "Don't Say Gay" bill
TikTok had initially flagged HRC's account for a comment it made in response to a teenager's video in which they shouted "gay!" while driving past a sign welcoming travelers to the state of Florida. In solidarity, HRC posted "GAY" in the comments, triggering a week-long suspension from the social media platform, which attracts more than one billion users per month.
HRC quickly appealed and the suspension was reduced to two days, but HRC was quick to note that any breach in its ability to communicate to the public can have damaging effects. 
"We're fighting a battle for our lives," said Ty Cobb, senior director of strategic initiatives at HRC, to The Advocate. "Elected officials are trying to censor our speech and restrict our access to healthcare and equal opportunity. Our need to communicate to our community and allies is more important than ever right now. Having our TikTok account suspended for two days means our ability to post educational, affirming content was restricted, which is nothing short of devastating."
TikTok has previously fallen under scrutiny for suppressing freedom of expression, as outlined in a 2020 policy brief from the Australian Strategic Policy Institute and the International Cyber Policy Centre.
According to the report, "LGBTQ+ TikTok users around the world have complained about censorship of their posts, including in the UK, the US and Turkey. Our research has found that hashtags related to LGBTQ+ issues in Russian, Arabic, Bosnian, and more aren't searchable on the platform, preventing people who speak those languages all over the world from taking part in the discussion."
TikTok issued the following statement in response to HRC's complaint: "We restored the comment as soon as we were made aware of this error and will continue to provide ongoing training to help our moderators make consistent and accurate decisions. We are proud that LGBTQ+ community members choose to create and share on TikTok, and our policies seek to protect and empower these voices on our platform."