Ron DeSantis called "anti-business" in debate over his "Don't Say Gay" war with Disney
.
.@CharlieCrist won't let Ron DeSantis forget that he revoked a contract with Disney because they stood up for LGBTQ rights.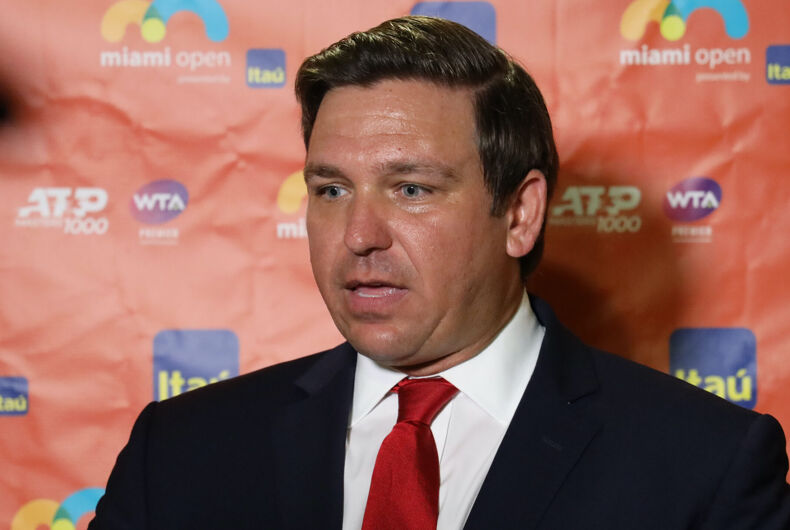 On Monday night, Florida Gov. Ron DeSantis (R) and his Democratic opponent Charlie Crist went head to head in a debate, where Crist called DeSantis "the most anti-business governor I've ever seen" as a result of his battle to ban teachers from talking about LGBTQ issues.
"I'm pro-business I want to make sure we keep our businesses open. I'm not the governor who attacked Walt Disney World because they deigned to express their point of view."
"I'm not the governor who attacked the cruise industry because they just wanted to make sure that their customers weren't sick before they got on the boat. That's you. You're the most anti-business governor I've ever seen."
After Crist's dig about Disney, the audience laughed. He was referring to DeSantis's war on the company after it spoke out against Florida's Don't Say Gay bill that prohibits K-3 teachers from talking about sexual orientation and gender identity in the classroom.
DeSantis not only continuously criticized the company in public, but he also oversaw the Florida legislature's revocation of Disney's decades-old special zoning agreement to punish them for speaking out for LGBTQ people by issuing a statement opposing the Don't Say Gay law.
And last summer he battled with the cruise industry, banning them from requiring proof of vaccination from passengers. A federal court sided with a cruise line against DeSantis, saying that the state's ban on vaccine passports violated the cruise line's rights.
In July, he ordered his administration not to invest funds in "woke" corporations, prohibiting pension fund managers from using environmental, social, and governance (ESG) ratings when deciding which companies to invest government funds into.
Crist's dig at DeSantis accuses him of doing the exact opposite of what the Republican party – the alleged pro-business party – claims to support.
During the debate, DeSantis also would not commit to serving another full four-year term as governor, presumably because he is planning a 2024 presidential run.
DeSantis avoided Crist's questions about 2024 and declared, "I know that Charlie is interested in talking about 2024 and Joe Biden, but I just want to make things very, very clear: The only worn-out old donkey I'm looking to put out to pasture is Charlie Crist."
Crist served one term as Florida's Republican governor from 2007 to 2011. In 2010, he ran for Senate as an independent, and in 2012, he registered as a Democrat. In addition to being governor of Florida, he has been a state senator, attorney general, and the state's education commissioner (all as a Republican). Until a few months ago, he was serving in Congress but resigned to focus on the gubernatorial race.
In the debate, he also took aim at DeSantis's anti-trans and anti-abortion views.
DeSantis signed a 15-week abortion ban that has no exceptions for rape and incest, and he has repeatedly spoken out against trans youth. During the debate, he called gender-affirming care the practice of "mutilating" children.
"You think you know better than any physician or any doctor or any woman," Crist said. "You need to lead by uniting people, not dividing them."