Qatar's UN Ambassador said God should curse gay people in recently revealed tweets
.
The tweets have been brought to light two months before the World Cup is set to take place in Qatar.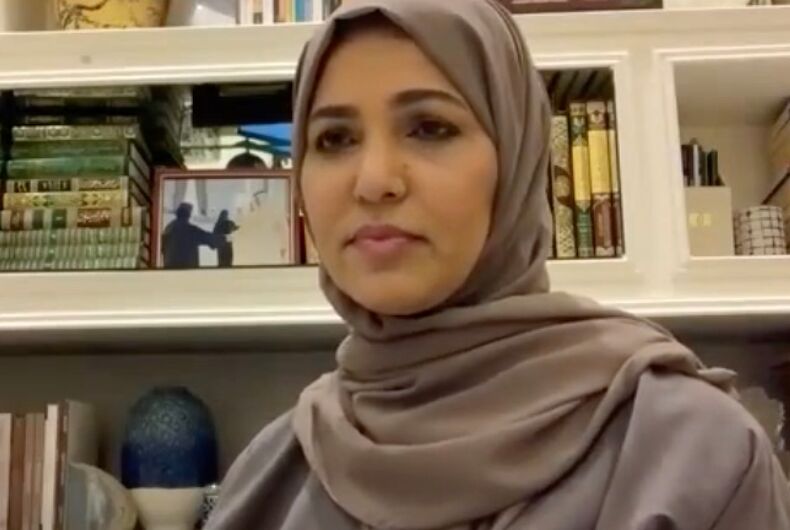 Two months before the World Cup is set to take place in Qatar, the country's ambassador to the United Nations deleted her Twitter account after homophobic and antisemitic tweets she posted throughout the past decade were discovered.
According to The Jerusalem Post, Hend Al-Muftah's tweets came to light when the organization UN Watch, which monitors the United Nations, sent a letter to UN Human Rights Council President Federico Villegas expressing "grave concern" that Muftah had been nominated for chair of the UN Forum on Human Rights, Democracy, and the Rule of Law.
The letter discussed dozens of Muftah's tweets touting "racist tropes about Jews, bigoted attacks on gays, and disinformation and conspiracy theories about Western societies and liberalism."
In the tweets, Muftah reportedly called on God to put a curse on gay people and claimed that "defending human rights has nothing to do with gay rights!"
And in response to the UN advocating for the rights of LGBTQ Africans, Muftah wrote, "Stay away from the Middle East and Arab countries, keep your rights for your people."
Replying to a headline expressing former Vice President Dick Cheney's excitement about his gay daughter's wedding, she wrote that "the West celebrates the lack of reason… and the decay of morals."
Muftah also called Jews "our enemies" and said they "dominated, tyrannized, and ruled the world" because they "focused their investments in industry and the media."
The position on the UN Forum ultimately went to Patricia Hermanns of the Bahamas. Villegas announced the decision only a few days after receiving the letter from UN Watch, though he did not mention anything about Muftah.
A few days later, Muftah deleted her Twitter account.
UN Watch Executive Director Hillel Neuer tweeted about the situation, calling Muftah "Qatar's Ambassador of Hate."
Neuer also noted, "It's a big deal that Qatar's Ambassador deleted her account. In 2016, she was named the most influential social media person in Qatar. After thousands of tweets since 2011, she had 73,000 followers."
Qatar has been at the center of global controversy since it was chosen as the site of the 2022 World Cup.
LGBTQ fans and players have been vocal in their displeasure over FIFA awarding the 2022 World Cup to the country for years.
Homosexual acts are punishable by death in Qatar, where Islam is the state religion. But, as The Washington Blade reports, the country has promised that LGBTQ foreigners will be welcomed at the World Cup, which kicks off November 20.
San Francisco-based gay Qatari physician Dr. Nasser Mohamed has started a petition urging FIFA and Qatar to protect the rights of LGBTQ Qataris and visitors. According to the petition's website, the Qatari government is already warning LGBTQ visitors to avoid public displays of affection and threatened to confiscate rainbow flags.
Meanwhile, the captains of eight World Cup teams—including England, Belgium, Denmark, France, Germany, the Netherlands, Switzerland, and Wales—have pledged to wear anti-discrimination armbands to highlight the issue of human rights in Qatar.
And LGBTQ soccer fans aren't the only ones feeling uneasy, as any sex outside of marriage is illegal there.
In June, U.K. tabloid The Daily Star reported that couples with differing last names were being denied hotel reservations, and one insider warned of "very strict and scary consequences if you are caught. There is a feeling this could be a very bad tournament indeed for fans."
Unmarried straight couples could face up to seven years in prison if caught.