Marjorie Taylor Greene tried to honor the Confederacy but failed spectacularly
.
She also called out "anti-white racism" as "dangerous" as she tried - and failed - to celebrate a war of secession in defense of slavery.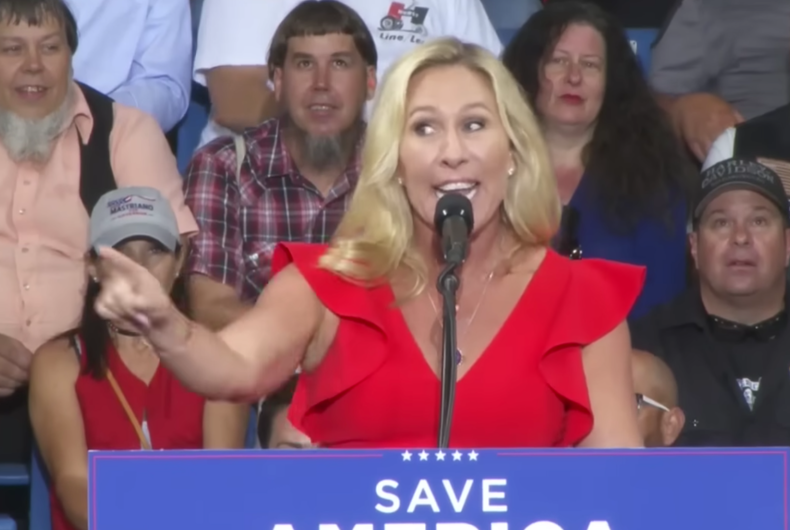 Rep. Marjorie Taylor Greene (R-GA) tried to celebrate the Confederacy by visiting a monument this week, but apparently she didn't stop to read the signs around her to notice that it was actually a monument to Union soldiers.
"Tonight, I stopped at the Wilder Monument in Chickamauga, GA, which honors the Confederate soldiers of the Wilder Brigade," Greene wrote on Truth Social, the Twitter-like platform that Donald Trump owns. "I will always defend our nation's history!"
She also posted a video where she said she climbed the 136 stairs to the top of the tower there.
The Wilder Brigade, though, was part of the Union Army and was made up of regiments from Indiana and Illinois. It fought in the Battle of Chickamauga in northwestern Georgia in 1863, and in 1890 several former officers from the brigade started discussing a monument at the Chickamauga battlefield to honor Union General John T. Wilder.
The post has been deleted from Truth Social, but not before people got screenshots and mocked her lack of knowledge about the history she claimed she will defend.
Also on Tuesday, Greene appeared on The Charlie Kirk Show podcast where she decried "anti-white racism."
"I'll call out racism everywhere I see it, and this anti-white racism is growing and it's dangerous," she said. "It's very, very dangerous."
She pointed to Democratic Georgia gubernatorial candidate Stacey Abrams, who is Black, as her main example of anti-white racism, saying that Abrams "wants to only promote Black communities here in Georgia, yet she wants to be governor of Georgia?"
It's unclear what Greene was referring to since Abrams never said that she "only" wants to help Black people in Georgia, but she may have been discussing a Twitter thread from Monday where Abrams stated her support for reparations.
"As Governor, I plan to create real, #tangible, generational wealth in Black communities," she wrote. "Under [Republican Gov. Brian] Kemp, it will take 100 years to close the Black business parity gap with majority firms. I can close that gap by the time your preschoolers go off to college."