Lawrence O'Donnell blasts Kyrsten Sinema for "crazy" & "indefensible" views
.
The MSNBC correspondent lambasted Sinema's unconstitutional views... and sheer ignorance.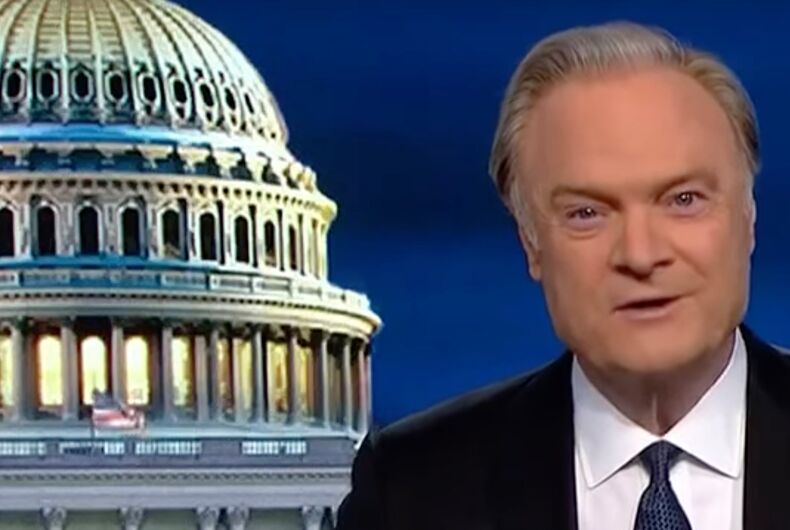 MSNBC correspondent Lawrence O'Donnell skewered out Sen. Kyrsten Sinema (D-AZ) after she made a speech in support of the 60-vote threshold for passing legislation in the Senate.
During a Q&A at the University of Louisville, Sinema defended her strong stance against abolishing the filibuster, which effectively makes 60 votes a requirement to pass any legislation in the Senate. Her opposition has contributed to the stalled progress of major Democratic legislation, including two voting rights bills and the Equality Act.
Sinema said the threshold ensures Senators don't get everything they want, that Senators find more of a middle ground, and that legislation "stands the test of time, that will not be reversed when the next party gains power."
O'Donnell wasn't having it.
"Senator Sinema thinks that the 60 vote threshold ensures no one gets everything they want. There is not a single senator in the history of the United States Senate who has gotten everything that he or she wants. Not ever," O'Donnell said.
"Senator Sinema did not give a single example of a bill being passed with less than 60 votes that was then repealed when there was a change in power in Congress and the White House. Not a single example of her fear of her theoretical justification for a voting threshold in the Senate that was not provided for in the Constitution, and which defies democracy in a body whose very structure of two Senators per state defies Democracy."
Tax rates, he added, are the only thing that regularly change when party control shifts since they can pass under a process called "reconciliation," which can't be filibustered.
"And so it happens, and the country survives," he said.
O'Donnell then lambasted Sinema for taking her beliefs a step further when she said that she also believes the Senate should reinstate the 60-vote threshold to confirm executive and judicial nominees because "that's what our forefathers intended."
O'Donnell accused her of "follow[ing] the indefensible with the crazy."
"Our forefathers, as she calls them, intended that women never be senators," he said. "Our forefathers intended that women never have the right to vote. Our forefathers did not intend for a place called Arizona to be represented in the United States Senate…the Arizona territory eventually became the 48th state in 1912. Pretty late in the game. But that was the same year that a constitutional amendment finally overruled the Founding Fathers and allowed United States senators to be elected by the voters of the state, instead of the state legislatures, as the founders wanted them to be."
O'Donnell said if Sinema were so focused on what the forefathers intended, she'd be advocating to take the right to vote for Senators away from the public and she'd be against the 60-vote threshold because the founders were "very specific about the Senate conducting all business by simple majority vote except for treaties…and conviction of impeachment trials."
"The number 60 never appears in the Constitution, but it seems to live in Kyrsten Sinema's imagined version of the Constitution. If a simple majority vote is a dangerous and fickle threshold for governing in a democracy, then why should only five members of the United States Supreme Court get to decide the final interpretation of the law of the land? Why doesn't Senator Sinema advocate a minimum of a 6-vote threshold in the Supreme Court instead of a mere majority and why is the United States of America the only country that has a 60 percent threshold to win a vote in a national legislative body?"
O'Donnell ended the segment by pointing out that Sinema's speech was made at a center named for Mitch McConnell and that Sinema was there to celebrate his "constitutional vandalism."
"The Constitution does not say that Mitch McConnell shall prevent a nominated Supreme Court Justice from even being considered by the United States Senate for its consent as Mitch McConnell did to Merrick Garland in the last year of the Obama presidency."
"And Mitch McConnell didn't need 60 votes to do that."