Jen Psaki had the best response to Ted Cruz begging an audience to boo her
.
Jen Psaki actually likes lesbian icon Peppermint Patty, so Ted Cruz is going to have to try harder than that to insult her.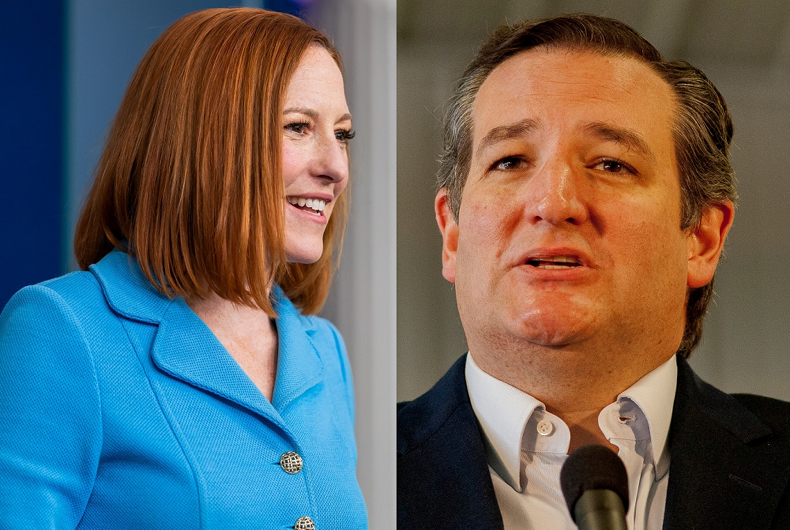 White House Press Secretary Jen Psaki was not bothered at all that Sen. Ted Cruz (R-TX) insulted her by saying that she looks like Peppermint Patty and begged an audience to boo her.
It's no secret that conservatives don't like Psaki, calling her a liar when she, for example, states the position of the Biden administration on police funding or talks about the side effects of fake COVID-19 treatments the FDA is warning against.
Related: Ellen blew straight people away with a giant list of all the gay cartoon characters
So Sen. Cruz thought he'd get some easy audience participation by bringing her up at the Conservative Political Action Conference (CPAC) this week.
"Jen Psaki!" he shouted into the mic, apparently expecting the audience to boo. "Well, come on, Jen Psaki doesn't get the Justin Trudeau treatment?"
The audience understood what he was asking for and started booing.
"Alright! You know, Peppermint Patty deserves some love!" he continued, laughing at his own joke, which was probably a reference to Psaki's red hair.
A reporter decided to get Psaki's response at the White House press briefing yesterday.
"I'm not trying to ambush you, but I wanted to give you a chance to respond," the reporter said. "Senator Ted Cruz is speaking at CPAC, and you came up. He called you, quote, unquote, Peppermint Patty and has encouraged people to boo you.  So, I wanted to-"
"Don't tell him I like Peppermint Patty," she said, getting laughter from the press corps. "So I'm not going to take it too offensively."
"Senator Cruz, I like Peppermint Patty.  I'm a little tougher than that, but there you go," she said before moving on to a question about Russian sanctions.
Peppermint Patty has become something of a lesbian icon since she first appeared in the comic Peanuts in 1966. Comedian Ellen DeGeneres explained why.
"First, there's Peppermint Patty," Ellen said on her show last year. "Let's look at the evidence here. She wears Birkenstocks. Her name is Patty. Her best friend calls her Sir, which is short for Sir-iously gay."