GOP Congressional candidate opposed women's right to vote
.
The Trump-backed candidate said that men "think logically about broad and abstract ideas." His campaign said he just wanted to "provoke the left."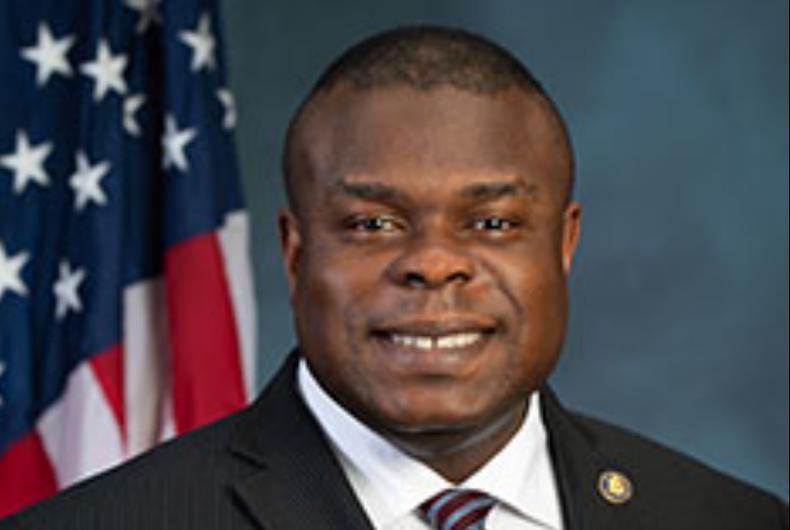 Former Trump administration official and current Congressional nominee John Gibbs (R) has argued in the past that women shouldn't have the right to vote, saying that women do not "posess [sic] the characteristics necessary to govern," that America has "suffered" since women got suffrage, and that women voting has turned the country into a "totalitarian state."
Gibbs wrote in an article that was posted to his personal webpage in the early 2000s that men "think logically about broad and abstract ideas in order to deduce a suitable conclusion, without relying upon emotional reasoning" and are therefore smarter than women.
"Some argue that in a democratic society, it is hypocritical or unjust for women, who are 50% of the population, not to have the vote," he wrote. "This is obviously not true, since the founding fathers, who understood liberty and democracy better than anyone, did not believe so."
"In addition, all people under age 18 cannot vote, although they too comprise a significant portion of the population. So we cannot say that women should be able to vote simply because they are a large part of the population."
The website was for a "think tank" that he created while a student at Stanford University called the "Society for the Critique of Feminism."
In the essay, Gibbs argued that women "vote more socialistic than men, for larger and more intrusive government" and that feminism and feminists "court communism."
"Thus, we conclude that increasing the size and scope of government is unequivocally bad," he concluded. "And since women's suffrage has caused this to occur on a larger scale than any other cause in history, we conclude that the United States has suffered as a result of women's suffrage."
His campaign confirmed the veracity of the article, but claimed that he didn't mean it and it was just intended to "provoke the left on campus and to draw attention to the hypocrisy of some modern-day feminists."
"It was nothing more than a college kid being over the top," a campaign spokesperson said. "Of course, John does not believe that women shouldn't vote or shouldn't work, and his mother worked for thirty-three years for the Michigan Department of Transportation!"
No matter his intent, the site was taken seriously by other anti-feminist sites at the time, CNN found. Several conspiracy theory websites linked it and cited Gibbs's work.
And Gibbs appeared to take his work seriously at the time too. He linked a website called "Father's Manifesto" that had a petition to repeal the 19th Amendment and end women's right to vote in the U.S. and wrote a comment supporting them on his own site as he linked them: "A great website detailing, among other things, the unconstitutional laws which passed as a result of the 19th amendment, and providing further evidence of the damages done by the 19th amendment."
Gibbs, who has been endorsed by Donald Trump, got attention last month when Democrats ran ads supporting his primary campaign against incumbent Rep. Peter Meijer (R-MI). Meijer is a more moderate Republican who voted to impeach Trump, and the Democratic Congressional Campaign Committee ran ads supporting Gibbs in the primary because they believed that running against an extreme Republican in the general election in November would give Democratic candidate Hillary Scholten a better chance.
Gibbs was the acting Assistant Secretary of Housing and Urban Development for Community Planning and Development for almost three years during the Trump administration. He was never confirmed by the Senate in part because of his lack of experience in anything related to housing and his extreme comments, which include the idea that Secretary Hillary Clinton's campaign chair in 2016, John Podesta, participated in a Satanic ritual.
He continues to believe that it was "mathematically impossible" for President Joe Biden to have won the 2020 election, even though no evidence of widespread voter fraud was found in multiple investigations after the election.