GOP candidate who opposed trans rights in primary says he's against marriage equality
.
Tom Barrett sent supporters text messages to scare them into thinking their kids are transgender. Now he's saying he's against marriage equality.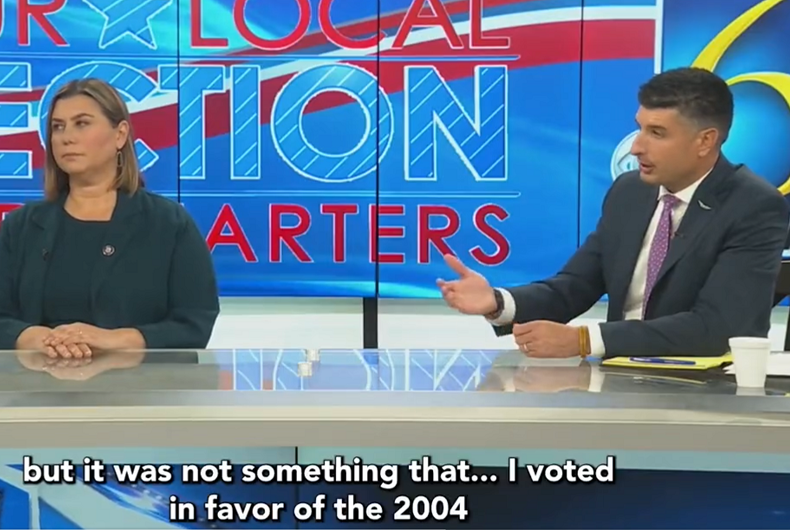 A GOP candidate in Michigan whose campaign ran a series of unhinged ads about transgender youth in the primary is stressing that he does not support marriage equality.
State Sen. Tom Barrett (R) is challenging Rep. Elissa Slotkin (D) in Michigan's Seventh Congressional District. The two debated last night on WLNS-TV, Lansing's CBS affiliate, when Barrett stressed that he opposes same-sex marriage and believes that the issue should be decided by each individual state.
"I'm not someone that favors that as a proposal," he said. "It was not something that- I voted in favor of the 2004 proposal that was on the ballot then."
"Which was to ban it," the moderator interjected.
They were referring to Michigan Proposal 04-2, which was for a state constitutional amendment to ban same-sex marriages which passed with 59% of the vote. It stopped being enforced after the Supreme Court legalized marriage equality in all 50 states in 2015 in the historic Obergefell v. Hodges decision.
"That's in our state constitution," Barrett insisted. "That should have been respected."
But he said that the issue is "settled now."
Slotkin pushed him on the matter, saying that there's a chance that Republicans will try to pass a bill "to put up a ban on gay marriage" if they take the House in the midterm elections."
"They're going to bring it to him whether he wants to vote on it or not…. Will you vote on a federal ban against gay marriage?" she asked.
"I would not vote to ban gay marriage at the federal level," he responded. "I think that is an issue for the states to decide."
Of course, for states to decide on the issue, Congress would have to pass a Constitutional amendment leaving the issue to the states or the Supreme Court would have to overturn its Obergefell decision, something that Justice Clarence Thomas suggested in his concurring opinion as the court overturned Roe v. Wade, which was based on a similar legal framework to Obergefell.
Leaving marriage equality to the states to decide would effectively end it in many states that still have bans on their books, which includes Michigan.
During the primary season, Barrett's campaign sent a series of bizarre text messages to supporters claiming that they had an appointment for their child's "Gender Reassignment Surgery," something that is not performed on children or minors.
APPOINTMENT STATUS: CONFIRMED

Appointment for: Your child

Appointment Type: Gender Reassignment Surgery

Appointment Date: Tomorrow at 9 AM
"If we fail, our children are doomed," the text message concluded.
He also set up an online fundraising website that claimed that "radical Democrats opposing Tom are fighting DIRTY" and that "Democrats are HELLBENT on destroying our faith, removing God from the center of our nation, and pushing transgender ideology on young children."
On his campaign website today, Barrett accuses public schools of "encouraging gender confusion." While his site doesn't explain what he means with those words, such descriptions have become common this year for referring to schools that treat transgender students equally by implying that the lack of anti-trans discrimination is the same as forcing cisgender kids to transition.