Florida is asking girls to report their menstrual history if they want to participate in sports
.
Trans and women's rights advocates are calling it "downright dystopian."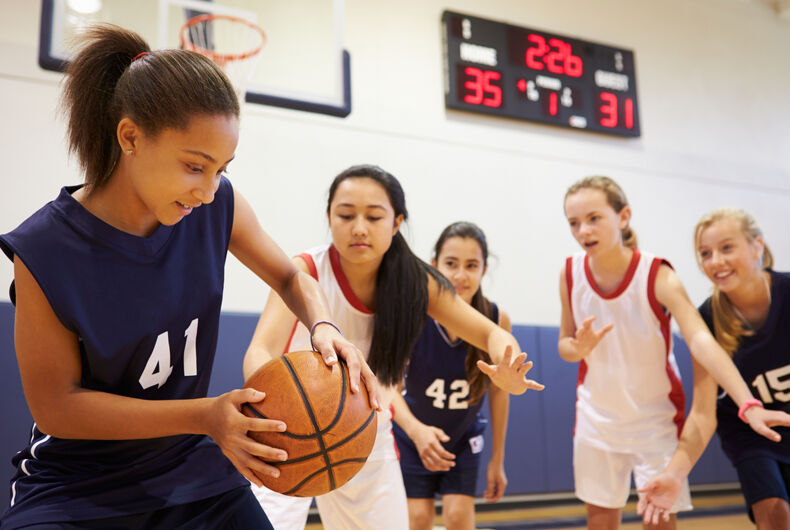 A form that asks female student-athletes in Florida to report on their menstrual cycles is being blasted by LGBTQ and pro-choice activists.
The medical form has reportedly been used for two decades and asks athletes about conditions like allergies and seizures to determine fitness to participate in sports. It also asks female athletes to fill out optional questions on the date of their last period, how often they get their period, and the date of their first one.
This year, multiple school districts in the state transferred the form online using a third-party service, which has caused concern among both parents and doctors, as the forms are both accessible to coaches and vulnerable to subpoenas, according to a report by the Palm Beach Post.
Medical privacy laws like HIPAA only apply to information being stored by healthcare providers. Because this student data will be stored by a third-party company called Aktivate, it makes it vulnerable, even though its contract ensures confidentiality.
As women and trans people are increasingly targeted by state laws – in Florida, abortion is outlawed after 15 weeks and trans girls are banned from women's sports – many parents and doctors are skeptical of asking students to store sensitive information like this online.
"It sure as hell will give me pause to fill it out with my kid," said pediatric endocrinologist Dr. Michael Haller.
"There's been a lot of discussion, even at the level of the White House, about how individuals' menstrual history should not be widely shared because it could be used to target them in the case of state regulations on abortions," added Palm Beach County Democratic Women's Club President Joan Waitkevicz.
The questions on menstrual history reportedly help doctors identify certain medical issues in students, but activists are advocating for that information to be kept between a student and their doctor. Otherwise, trans athletes could be outed to their coach, as could athletes who have had or are planning to have an abortion.
"It's anti-choice and the anti-trans politics rolled into one," said Waitkevicz.
"I don't think it was our intent for this information to be shared with anyone else [but doctors]," said pediatrician Dr. Chris Koutures, who helped create the national medical form for athletes. "The bottom line for the coach is: 'Are they clear or not?'"
In fact, the national form includes a disclaimer at the top that says nothing should be shared with schools other than the page confirming a student is cleared to participate in sports. On Florida's form, there is no disclaimer, and students are required to upload every page into the online database.
A statement from the Palm Beach County School District ensured that, despite the change, student information would remain private.
"The coaches do not review the student-athlete's medical information and they do not reference the forms on a regular basis. The school's Athletic Director only checks the physical form for a doctor's signature and the date of exam to ensure that it is in compliance with state statute."
On Twitter, trans activist Alejandra Caraballo called the form "downright dystopian."