Donald Trump called Madison Cawthorn "gross" & is "disappointed" following scandals
.
Donald Trump is reportedly asking if Rep. Madison Cawthorn is "f**king his cousin."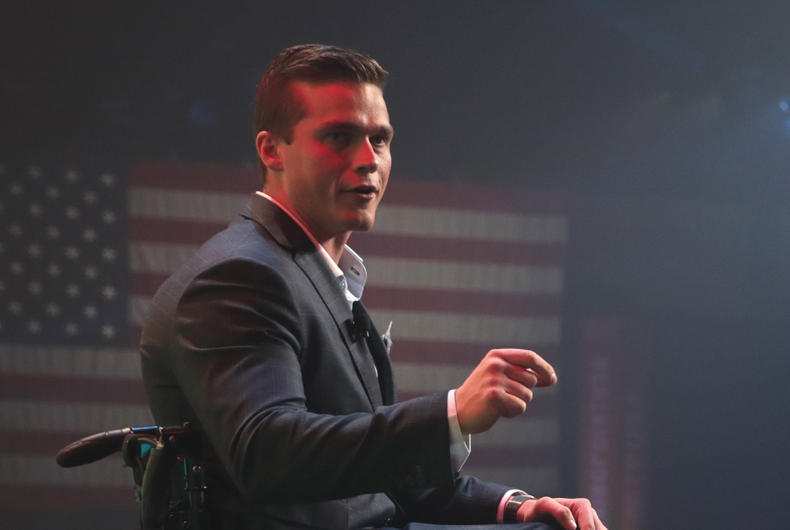 Rep. Madison Cawthorn (R-NC) hasn't had a great month. Videos of his sexual antics like getting naked and humping a friend's face or having his male cousin grab him by the crotch have surfaced.
Even worse, he may lose support from the daddy of the MAGA movement himself: Donald Trump. And it could lead to some trouble for Cawthorn ahead of his primary election next week.
Related: Homophobia could end Madison Cawthorn's career in politics & LGBTQ people know what karma is
Trump has been keeping up with Cawthorn's latest scandals, which he said were "gross," according to two unnamed sources who spoke with Rolling Stone.
"Trump is not at the point of pulling his endorsement, but the [former] president says he wants to sit back and see what happens," one of the sources recalls. "But he's been disappointed with Madison, and thinks he has problems handling his [public relations]," one source said.
The second source said that Trump "voiced bewilderment and disgusted confusion," asking if it's true that Cawthorn is "f**king his cousin?"
"President Trump is completely weirded out by the allegations," a third unnamed source said.
Cawthorn is a far-right and anti-LGBTQ Congressmember who was first elected in 2020. He won the Republican primary at age 24 with no political experience in large part due to Trump's endorsement.
Immediately after winning his party's nod to run for Congress and then shortly after winning the general election, Cawthorn's scandals started. Social media posts of him happily visiting Adolf Hitler's vacation residence and calling the Nazi leader "the Fuhrer" were leaked. He was also caught lying about having been accepted to the U.S. Naval Academy.
Women who went to Patrick Henry College came forward and accused him of taking female students on "fun drives," where he would drive recklessness and ask them intrusive questions about their sex lives.
"It didn't take long for women on campus to start warning one another: You don't want to be alone with him, especially in his car," Buzzfeed News reported at the time.
But the scandals he has faced over the last several weeks have been things that his Republican base might actually be concerned about.
Three weeks ago, a former friend gave photos of Cawthorn in women's lingerie to Politico. Cawthorn said that the pictures were from a cruise and were "goofy."
"They're running out of things to throw at me," he said at the time, a statement that was later proved false.
Photos published by the Daily Mail two weeks ago show Cawthorn with a younger male staffer's hand on his genitalia. The staffer is his cousin.
At around this time, Cawthorn was caught trying to carry a loaded gun onto an airplane.
And last week video posted online by a group called American Muckrakers PAC showed Cawthorn, naked, humping a friend's face on a couch while "Hooked on a Feeling" by Blue Swede plays in the background.
Cawthorn released a video responding to many of the recent scandals, lashing out at the "fake news media" even as he confirmed the authenticity of the videos and photos.
"You are witnessing one of the first examples of a politician who grew up with a cell phone in their hand," he said, referring a "childish" video he made with his cousin, the video of his staffer's hand on his genitalia. "Most of my colleagues in Congress right now would not be serving in Washington if they grew up within a single mile of a cell phone growing up."
Cawthorn said that Trump is still on his side.
"President Trump is my friend and the leader of our party. I don't trust anonymous sources and nameless accusations," Cawthorn said in a statement. "The fake news attacks MAGA warriors every single day. Their lies won't distract me from fighting for an America First agenda in Congress."
Trump hasn't commented on the story publicly.
North Carolina's primary elections will be held next Tuesday, May 17. Cawthorn is favored to win in his district.
Cawthorn is an opponent of LGBTQ rights. When the Citizen Times asked him about his views on LGBTQ rights when he ran for Congress two years ago, he said that he opposes government involvement in marriage, even as he was engaged to marry his wife.
"I don't think the government should be involved in marriage," Cawthorn said at the time. "I have very traditional views myself. I'm straight, I'm marrying a woman. I don't think the government should be involved in marriage. I believe it should be between the marriage and God, that's all that matters."
The argument that "government shouldn't be involved in marriage" is one that some conservative Christians bring up, but only in the context of same-sex couples getting married. When Cawthorn married his wife a few months later in April 2021, he said it was "the greatest honor, privilege and adventure of my life." He did not mention keeping the government out of his marriage.
He is also opposed to protecting LGBTQ people from discrimination.
Earlier this year, he voted against the Equality Act, which would add sexual orientation and gender identity to existing federal civil rights legislation, banning anti-LGBTQ discrimination in employment, credit, housing, and other areas.
He claimed that the bill would restrict parents' rights when it comes to health care for their transgender children, something that was not in the bill. In fact, several states tried to pass bills to ban doctors from providing medically appropriate gender affirming care to transgender minors, and Cawthorn never spoke out against them.
The bill did not contain funding for abortion either.
Earlier this year, in response to Judge Ketanji Brown Jackson refusing to define the word "woman" during her Senate confirmation hearing, Cawthorn gave a speech in the House where he said a woman is "XX chromosomes, no tallywhacker. It's so simple."