Disney employees plan "full-scale walkout" in response to CEO's mishandling of "Don't Say Gay" bill
.
Anyone who participates could be fired.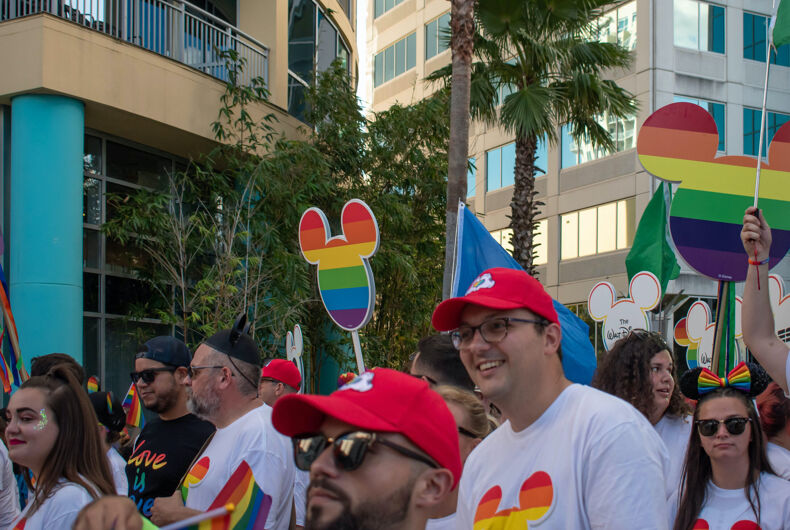 Sick of their CEO's mishandling of Florida's "Don't Say Gay" bill, Disney employees have planned a week of in-person and virtual walkouts.
A Twitter account called Disney Walkout recently posted a message with an open letter explaining the scheduled walkouts. The walkouts started on Tuesday, March 15 at 3 p.m. local time and will proceed until Monday, March 21 each day for 15 minutes. On Tuesday, March 22, employees will hold a "full-scale walkout."
Related: I'm done with Disney & it isn't just because of their stance on LGBTQ issues
"The recent statements by The Walt Disney Company (TWDC) leadership regarding the Florida legislature's recent 'Don't Say Gay' bill have utterly failed to match the magnitude of the threat to LGBTQIA+ safety represented by this legislation," the Disney Walkout letter states.
"Primarily, those statements have indicated that leadership still does not truly understand the impact this legislation is having not only on cast members in the state of Florida, but on all members of the LGBTQIA+ community in the company and beyond."
The letter notes that the walkout isn't being organized by the company's business employee resource groups or Disney PRIDE organizations. It also notes that the full-scale walkout isn't legally protected, meaning that anyone who participates could be fired. The walkout even has a website, WhereIsChapek.com, named after the company's CEO, Bob Chapek.
The letter was signed by members of the LGBTQ community across the Walt Disney Company, including Disney Corporate, Disney Television Animation, Lucasfilm, Pixar, Disney Media and Entertainment Distribution, Disney Streaming, Enterprise Finance, Enterprise Technology/Global Information Security and Bento Box, Variety reported.
The controversy began when it was revealed that Disney had donated money to the "Don't Say Gay" bill's main sponsors. In addition, Chapek initially refused to publicly condemn the measure. He wrote that "corporate statements do very little to change outcomes or minds" and "are often weaponized by one side or the other to further divide and inflame." Instead, he highlighted the company's commitment to telling diverse stories and told employees who were unhappy his decision to go see a therapist.
Chapek then said he would meet Florida Gov. Ron DeSantis (R) to discuss somehow preventing the bill from being weaponized against LGBTQ people. In response, DeSantis said that he refused to bow down to "woke corporations"and released a video accusing LGBTQ people of trying to  "inject transgenderism into kindergarten."
Trying to do damage control, Disney said it would donate $5 million to  the Human Rights Campaign (HRC) and other LGBTQ rights organizations. HRC rejected its donation and said Disney needed to take more direct action to combat the bill.
Soon after, employees at Pixar claimed that Disney censors LGBTQ content and that executives had cut every attempt to show same-sex affection or LGBTQ characters.