College bans all clubs rather than follow court order to allow LGBTQ club
.
A lawyer for the LGBTQ group called the move by Yeshiva University a "shameful tactic."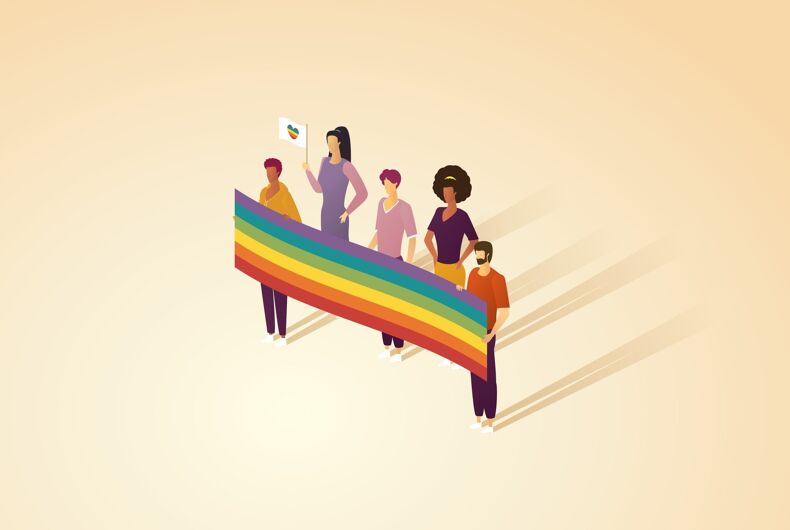 After a Supreme Court decision requiring Yeshiva University to recognize an LGBTQ student group, the Orthodox Jewish institution has chosen to cancel all of its clubs instead.
An email to students reportedly said that in conjunction with the upcoming Jewish high holidays, "The university will hold off on all undergraduate club activities while it immediately takes steps to follow the roadmap provided by the U.S. Supreme Court to protect YU's religious freedom."
Last week, the Supreme Court announced it would not block an order from a lower court stating that Yeshiva is required to recognize the YU Pride Alliance, the school's undergraduate LGBTQ student group.
The lower court ordered Yeshiva to recognize the group in accordance with the state of New York's anti-discrimination law. While the law does contain an exemption for religious institutions, a judge found that the school's charter identifies it as an "educational corporation" and not a religious one.
The court also disagreed that New York's anti-discrimination law, called the New York Human Rights Law, violates the school's first amendment rights.
The attorney for YU Pride Alliance, Katie Rosenfeld, said the decision to cancel activities for the school's 87 other student groups "is a throwback to 50 years ago when the city of Jackson, Mississippi closed all public swimming pools rather than comply with court orders to desegregate."
"We are confident that YU students will see through this shameful tactic and stand together in community," Rosenfeld said.
The day the Supreme Court's decision was announced, Yeshiva's President, Rabbi Dr. Ari Berman, released a statement proclaiming that "Every faith-based university in the country has the right to work with its students, including its LGBTQ students, to establish the clubs, places and spaces that fit within its faith tradition. Yeshiva University simply seeks that same right of self-determination."
"The Supreme Court has laid out the roadmap for us to find expedited relief and we will follow their instructions," Berman continued. "At the same time, as our commitment to and love for our LGBTQ students are unshakeable, we continue to extend our hand in invitation to work together to create a more inclusive campus life consistent with our Torah values."
The order from the Supreme Court is also not set in stone, as the New York appellate courts have not yet ruled on the case. As such, the Justices said Yeshiva could bring its case back to the Supreme Court once the state court has issued a decision.
According to SCOTUS Blog, Justice Samuel Alito said that if the case finds its way back to the Supreme Court on merits, Yeshiva would likely win with a religious liberty argument, which is possible considering the court's conservative majority.