Anti-trans protestors promise to sue the NCAA for giving students opportunities
.
One protestor is super angry that she tied with a trans athlete - but they were both beaten by four cisgender women.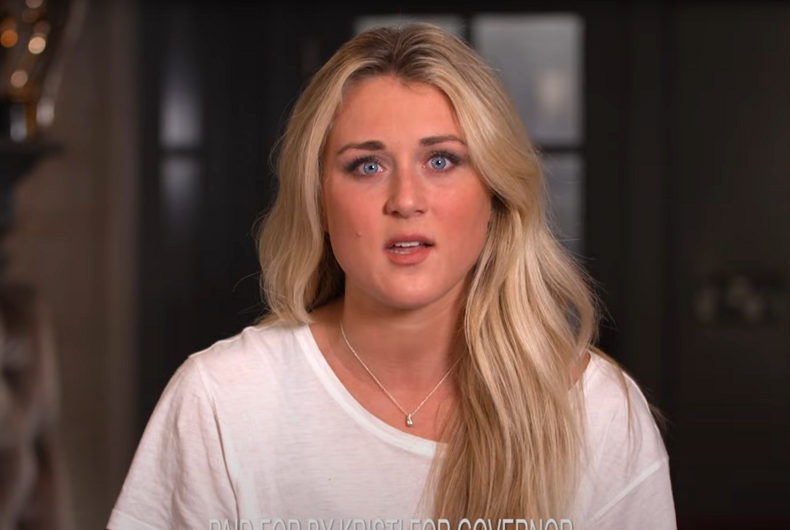 Anti-transgender activist Riley Gaines led a protest outside of the NCAA convention last Thursday, denouncing the college sports organization for working to allow transgender students to participate in school sports. A hate group lawyer even promised to sue the NCAA for allowing transgender students an opportunity to participate in school sports.
"Today, we intend to personally tell the NCAA to stop discriminating against female athletes by handing them a petition that we have garnered nearly 10,000 signatures on in just a couple of days," Gaines said at the rally.
A former swimmer for the University of Kentucky, Gaines is a rising star on the right, telling her story of tying for fifth place with University of Pennsylvania swimmer Lia Thomas, which she has described as "heartbreaking and somber." She doesn't talk much about losing to four cisgender women in the same race.
The NCAA has allowed transgender student-athletes to participate in college and university sports since 2010. Last year their policy was updated and the organization decided to take a sport-by-sport approach, which is what the Olympics uses.
"We want to have an environment that is fair, welcoming and inclusive for all of" the athletes, Robin Harris, Ivy League executive director, said at an NCAA session this week on the topic of transgender students.
Trans athletes "are playing by the rules," NCAA director of inclusion Jean Merrill said.
"So I think that could look like a federal lawsuit against the NCAA," said Christiana Kiefer at the rally. She's a lawyer for the anti-LGBTQ+ hate group Alliance Defending Freedom.
She explained that allowing transgender student-athletes would, in her opinion, violate Title IX, the federal law that bans discrimination on the basis of sex in education. It's the same law President Joe Biden cited in prohibiting anti-transgender discrimination in sports two years ago since it's impossible to ban some women from school sports based on their sex assigned at birth without discriminating "on the basis of sex."
"I think that could look like a Title IX complaint," she continued. "And I think it could look like even universities starting to actually push back against the NCAA and saying, 'Hey, we have a legal obligation to protect fair athletic opportunities for female athletes and if we fail to do that, you're kind of binding our hands and not allowing us to fulfill our legal obligations to the female athletes at our schools.'"
Gaines established herself as a leading voice in the Republican Party regarding their desire for increased discrimination against transgender people. This past election cycle, she cut ads in at least three different races, including one with failed Georgia U.S. Senate candidate Herschel Walker, who has been accused of violence against women.