Actor Ron Perlman calls DeSantis a "Nazi pig" while railing against the "Don't Say Gay" bill
.
"First amendment. Read about it, then run for office. You piece of sh**t."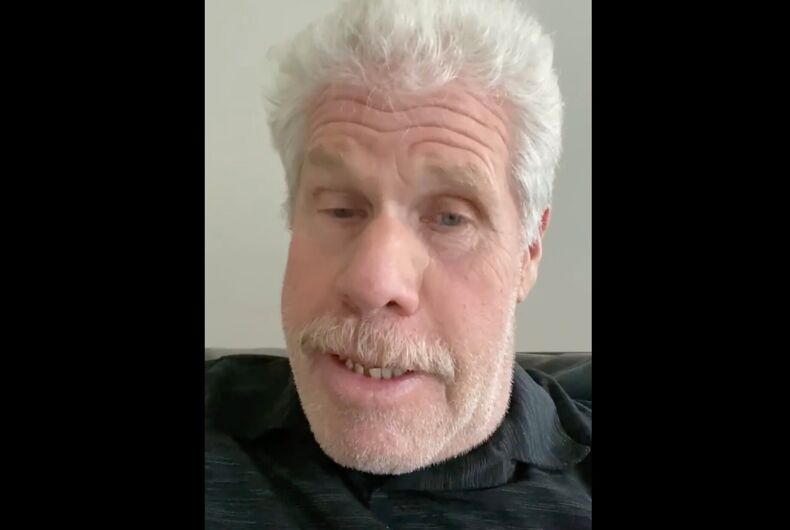 Actor Ron Perlman was not shy about sharing his views against Florida Gov. Ron DeSantis (R) and the "Don't Say Gay" bill.
In a video posted to Twitter, Perlman – who is known for Drive, Justice League: The Flashpoint Paradox, Cronos, and Hellboy, among other work – called DeSantis a "fucking Nazi Pig," and railed against him for trying to cull freedom of speech.
Related: Conservatives are outraged that Disney opposes the Don't Say Gay bill 
"Don't Say Gay? Don't Say? As the first two words in a sentence spoken by a political leader of a state in the United States of America. Don't Say?" Perlman yelled. "Don't fucking say you fucking Nazi pig? Say! First amendment. Read about it, then run for office. You piece of shit."
DeSantis signed the "Don't Say Gay" bill on Monday. It bans elementary school teachers from mentioning LGBTQ people in class. He signed it at the Classical Preparatory School in Spring Hill, Florida, flanked by children in school uniforms.
Other kids stood behind him holding signs that said "PROTECT CHILDREN/SUPPORT PARENTS," implying that children need protection from learning about the existence of LGBTQ people.
"The last couple of years have really revealed to parents that they are being ignored increasingly across our country when it comes to their kids' education," DeSantis said before he signed the bill. "We have seen curriculum embedded for very very young children, classroom materials about sexuality and woke gender ideology. We've seen libraries that have clearly inappropriate, pornographic materials for very young kids."
The bill has been condemned by Democrats, including President Joe Biden, who called it a "hateful bill." Advocates of LGBTQ equality argue that banning certain kinds of families from being discussed in school will increase stigma against kids who come from those families, as well as LGBTQ students.
Moreover, advocates argue that certain parts of the bill will require schools to out LGBTQ students to their parents.